Mattress Store in Yuma, AZ 85365
2108.79 miles
Denver Mattress®
1001 S. Redondo Center Dr.
Yuma, AZ 85365
Mon-Sat 10am-8pm
Sun 12pm-6pm

Call your local store for pickup hours.
Directions
Near I-8 & 16th St., Facing Home Depot
Directions
Near I-8 & 16th St., Facing Home Depot
Custom Mattress Fitting
It's easy to find a mattress that's custom-fitted to your unique body type at Denver Mattress®. Our in-store mattress experts use our patented Strength Resistance Test (SRT) to help you discover the mattress and pillow combination that suits your body best, promoting healthy spinal alignment and ensuring a deeper, more comfortable night's sleep. Denver Mattress® is dedicated to providing you with unbeatable value and an unmatched mattress buying experience.
Brands
Your DenverMattress® offers an unmatched selection of quality brands at unbeatable value. Your store is proud to sell product from brands you can trust to give you the most in style, selection, and value.
Services
We take pride in offering a great selection of brand name and factory-direct products at an incredible value, but it is our commitment to providing a superior customer experience that truly sets us apart. At every Denver Mattress®, you'll be greeted by our friendly, no-pressure sales staff who understand that their role is to educate rather than persuade. Our knowledgeable associates are there to guide you through the mattress buying process, offer insights as you test our extensive selection of products, and, of course, they also can also perform our patented Strength Resistance Test so you can discover a mattress that feels like it's custom-made for your unique body type.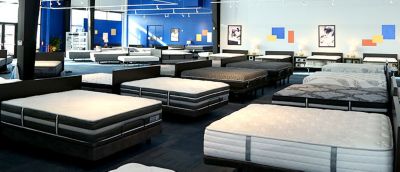 Welcome to Furniture Row in beautiful Yuma, Arizona! Located at 1001 S. Redondo Center Drive, our store opened to the public at the close of 2004, and we're broad to have remained a local favorite in all the years since. We take pride in providing exceptional customer service and helping our customers create the home of their dreams.
At Furniture Row, we understand that everyone has their own unique taste and style when it comes to furnishing their home. That's why we offer a diverse range of furniture collections to suit any design aesthetic. Maybe your taste in furniture is more casual, or maybe you gravitate toward a more formal look. Perhaps it's a little of both or something in between. No matter your style, you're sure to find just the right look at Furniture Row. Our extensive selection of quality home furniture and furnishings can help transform any room in your home.
In addition to our extensive furniture selection, we also offer a wide range of home décor items to add those finishing touches to your space. From stylish accent chairs and decorative lamps to cozy rugs and eye-catching wall art, our accessories collection will elevate your home's style and reflect your personal taste.
One of the unique features of our Yuma location is the attached Denver Mattress store. Denver Mattress is renowned for its exceptional mattresses, offering a wide range of options to ensure a good night's sleep for every individual. Whether you prefer a plush pillow-top or a firm memory foam mattress, our knowledgeable team will assist you in finding the perfect fit.
Serving Communities in and near Yuma, AZ
Yuma, known as the "Sunniest City on Earth," is a vibrant town located in the southwestern corner of Arizona. With its mild winters and hot summers, Yuma attracts both locals and tourists alike. The town is rich in history and culture, offering a variety of attractions and destinations for visitors to explore.
One popular destination in Yuma is the Yuma Territorial Prison State Historic Park. This former prison, established in 1876, provides fascinating insights into Arizona's territorial history. Visitors can take a self-guided tour and learn about the prisoners' lives during that era. For nature enthusiasts, the Imperial National Wildlife Refuge is a must-visit. Located along the lower Colorado River, this refuge spans over 25,000 acres and is home to a diverse range of wildlife. Visitors can enjoy hiking, birdwatching, and even boating along the river. Yuma also boasts a vibrant downtown district, filled with charming shops, restaurants, and entertainment options. From boutique clothing stores to art galleries and local theaters, there's something for everyone to enjoy in downtown Yuma.
As a local furniture store, we take pride in serving the communities in and around Yuma. Some of the nearby areas we cater to include: Somerton, San Luis, Fortuna Foothills, and Wellton; as well as the towns of Holtville, California and Winterhaven, California. Our store is also proud to serve the students, families, and retired military personnel in Yuma as we are located near Arizona Western College, Northern Arizona University, and the Yuma Marine Corps Air Station.
No matter where you're located in the Yuma area, Furniture Row is here to serve you. Our friendly and knowledgeable team is committed to helping you find the perfect furniture and home décor to match your style and create a space you'll love coming home to.