Mattress Store in Wichita, KS 67209
1081.22 miles
Denver Mattress®
555 S. Hoover Rd. Ste #1600
Wichita, KS 67209
Mon-Sat 10am-8pm
Sun 12pm-6pm

Call your local store for pickup hours.
Directions
Dugan Exit Off Kellogg
Directions
Dugan Exit Off Kellogg
Custom Mattress Fitting
It's easy to find a mattress that's custom-fitted to your unique body type at Denver Mattress®. Our in-store mattress experts use our patented Strength Resistance Test (SRT) to help you discover the mattress and pillow combination that suits your body best, promoting healthy spinal alignment and ensuring a deeper, more comfortable night's sleep. Denver Mattress® is dedicated to providing you with unbeatable value and an unmatched mattress buying experience.
Brands
Your DenverMattress® offers an unmatched selection of quality brands at unbeatable value. Your store is proud to sell product from brands you can trust to give you the most in style, selection, and value.
Services
We take pride in offering a great selection of brand name and factory-direct products at an incredible value, but it is our commitment to providing a superior customer experience that truly sets us apart. At every Denver Mattress®, you'll be greeted by our friendly, no-pressure sales staff who understand that their role is to educate rather than persuade. Our knowledgeable associates are there to guide you through the mattress buying process, offer insights as you test our extensive selection of products, and, of course, they also can also perform our patented Strength Resistance Test so you can discover a mattress that feels like it's custom-made for your unique body type.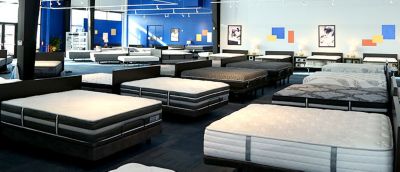 The Wichita Furniture Row® opened for business in October of 2009. It has served the greater Wichita market and beyond as well as areas of northern Oklahoma. Conveniently located on the west side of the city, Furniture Row® is just off Interstate 235 (the north/south bypass spur route of I-35). The store is at West Kellogg Road and Dugan, behind Denny's.
Serving Communities in and near Wichita, KS
Sixteen colleges and universities operate within a 50-mile radius of the city. Of these, Wichita State is by far the largest followed by Butler and Hutchison Community Colleges, Newman University, and Wichita Area Technical College.
Furniture Row® of Wichita is proud to serve the military of McConnell Air Force Base and their families. The 22nd Air Refueling Wing is the host unit at McConnell AFB. The primary mission of the wing is to "provide Global Reach by conducting air refueling and airlift when and wherever needed."
Furniture shoppers in Wichita recognize quality and expect a good value. Furniture Row® delivers on both counts and more. Whether buying a new dining room set, living room group, or bedroom suite, our customers know they'll find the best looking, highest quality furniture at the lowest price possible at Furniture Row®.
Mattresses with wide-ranging options shouldn't get in your way to a restful night's sleep. Let us help you identify the right mattress by discovering what works best for you. Whether you're just starting your mattress research or know what you need, Denver Mattress® is here to help! We don't want you to just buy a mattress; we want you to bring the RIGHT mattress home for you.
From living and working in this community, the Wichita Furniture Row® team has developed a strong commitment toward providing exceptional customer service experience whether in the store, over the phone, or delivering to your home.
We look forward to seeing you in our stores soon. Of course, feel free to browse our website to start getting ideas. And be sure to sign up to receive our in-home catalogs.