Mattress Store in Springdale, AR 72764
931.94 miles
Denver Mattress®
4000 S. Thompson
Springdale, AR 72762
Mon-Sat 10am-8pm
Sun 12pm-6pm

Call your local store for pickup hours.
Directions
2 miles North of the Mall
Directions
2 miles North of the Mall
Custom Mattress Fitting
It's easy to find a mattress that's custom-fitted to your unique body type at Denver Mattress®. Our in-store mattress experts use our patented Strength Resistance Test (SRT) to help you discover the mattress and pillow combination that suits your body best, promoting healthy spinal alignment and ensuring a deeper, more comfortable night's sleep. Denver Mattress® is dedicated to providing you with unbeatable value and an unmatched mattress buying experience.
Brands
Your DenverMattress® offers an unmatched selection of quality brands at unbeatable value. Your store is proud to sell product from brands you can trust to give you the most in style, selection, and value.
Services
We take pride in offering a great selection of brand name and factory-direct products at an incredible value, but it is our commitment to providing a superior customer experience that truly sets us apart. At every Denver Mattress®, you'll be greeted by our friendly, no-pressure sales staff who understand that their role is to educate rather than persuade. Our knowledgeable associates are there to guide you through the mattress buying process, offer insights as you test our extensive selection of products, and, of course, they also can also perform our patented Strength Resistance Test so you can discover a mattress that feels like it's custom-made for your unique body type.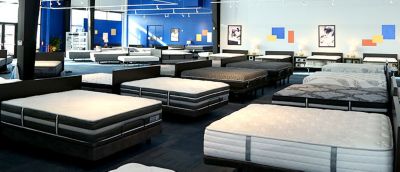 Welcome to Furniture Row in Springdale! Located at 4000 South Thompson, our Springdale store is your one-stop destination for all your furniture needs. Whether you're looking to furnish your living room, bedroom, dining room, or home office, we have an extensive selection of high-quality furniture to suit your style and budget.
At Furniture Row, we take pride in offering a wide variety of furniture styles to cater to every taste. From modern and contemporary to traditional and rustic, we have furniture pieces that will enhance the beauty and functionality of your home. Our knowledgeable sales associates are always ready to assist you in finding the perfect furniture that matches your unique style and preferences.
In addition to our extensive furniture selection, we also offer a range of services to make your shopping experience at Furniture Row as convenient as possible. Our professional delivery team will ensure that your furniture arrives at your doorstep in pristine condition, and our flexible financing options make it easy to bring your dream furniture home without breaking the bank.
One of the unique features of our Springdale location is the attached Denver Mattress store. With a wide range of mattresses, bedding accessories, and sleep solutions, Denver Mattress is the perfect complement to our furniture offerings. Whether you're in need of a new sofa or a comfortable mattress, we have everything you need to create the perfect living space.
Serving Communities in and near Springdale, AR
Springdale is a vibrant town nestled in the heart of northwest Arkansas. Known for its friendly community and picturesque natural surroundings, Springdale offers a charming small-town atmosphere with all the conveniences of a larger city.
One of the popular destinations in Springdale is the Shiloh Museum of Ozark History. This museum showcases the rich history and culture of the Ozarks through exhibits, artifacts, and educational programs. It's a great place to learn about the region's heritage and gain a deeper appreciation for the community. If you're a fan of outdoor activities, Springdale has plenty to offer. With its close proximity to the Ozark Mountains, residents and visitors can enjoy hiking, biking, and camping in the scenic natural areas surrounding the town. The nearby Beaver Lake is also a popular spot for fishing, boating, and water sports.
In addition to Springdale, our Furniture Row store proudly serves several other local communities, including Fayetteville, Rogers, Bentonville, Bella Vista, Siloam Springs, and Eureka Springs. We are also proud to serve the families and students of the surrounding communities as we are just a short drive away from the University of Arkansas.
At Furniture Row, we are committed to serving the communities in and around Springdale with the highest level of customer service and quality furniture. We invite you to visit our Springdale store and experience the local favorite for yourself. Our friendly and knowledgeable team is here to help you create the home of your dreams.