Mattress Stores in Boise + Nampa, ID 83687
2034.57 miles
Denver Mattress®
16608 Midland Blvd
Suite 102
Nampa, ID 83687
Mon-Sat 10am-8pm
Sun 12pm-6pm

Directions
Treasure Valley Shopping Center, by Costco
Directions
Treasure Valley Shopping Center, by Costco
Custom Mattress Fitting
It's easy to find a mattress that's custom-fitted to your unique body type at Denver Mattress®. Our in-store mattress experts use our patented Strength Resistance Test (SRT) to help you discover the mattress and pillow combination that suits your body best, promoting healthy spinal alignment and ensuring a deeper, more comfortable night's sleep. Denver Mattress® is dedicated to providing you with unbeatable value and an unmatched mattress buying experience.
Brands
Your DenverMattress® offers an unmatched selection of quality brands at unbeatable value. Your store is proud to sell product from brands you can trust to give you the most in style, selection, and value.
Services
We take pride in offering a great selection of brand name and factory-direct products at an incredible value, but it is our commitment to providing a superior customer experience that truly sets us apart. At every Denver Mattress®, you'll be greeted by our friendly, no-pressure sales staff who understand that their role is to educate rather than persuade. Our knowledgeable associates are there to guide you through the mattress buying process, offer insights as you test our extensive selection of products, and, of course, they also can also perform our patented Strength Resistance Test so you can discover a mattress that feels like it's custom-made for your unique body type.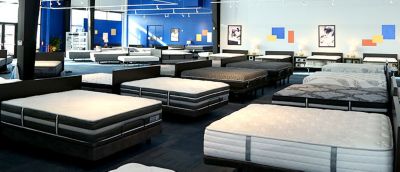 Welcome to Denver Mattress in Nampa! We are thrilled to be your go-to destination for all of your mattress and bedding needs. Our store is conveniently located at 16608 Midland Boulevard, making it easily accessible for residents of Nampa and the surrounding areas.
When you visit our Nampa location, you can expect to find a wide selection of high-quality mattresses from some of the most trusted brands in the industry. Whether you prefer a firm mattress for extra support or a plush one for a cloud-like feel, we have options to suit every preference and budget. Our knowledgeable and friendly sales associates are here to guide you through the selection process, provide Custom Mattress Fittings, and help you find the perfect mattress for a great night's sleep.
In addition to mattresses, we also offer a variety of bedding accessories to enhance your sleep experience. From cozy pillows and mattress protectors to stylish bed frames and adjustable bases, we have everything you need to create your dream bedroom. Our team can assist you in choosing the right accessories to complement your new mattress and create a comfortable and inviting space.
One of the unique features of our Nampa store is our commitment to sustainability. We believe in minimizing our impact on the environment, which is why we offer a selection of eco-friendly mattresses made from organic and recycled materials. These mattresses are not only better for the planet, but they also provide a healthy and safe sleep environment for you and your family.
Serving Communities in and near Nampa, ID and the Boise Metro Area
Located in southwest Idaho, Nampa is a vibrant and friendly town with a rich history and a close-knit community. The town is known for its beautiful scenery, including the nearby Snake River and the Owyhee Mountains. Outdoor enthusiasts will appreciate the abundance of recreational activities available, such as hiking, fishing, and boating.
Nampa is also home to several popular attractions that draw visitors from near and far. The Warhawk Air Museum is a must-visit for aviation enthusiasts, showcasing a collection of vintage aircraft and offering educational exhibits. The Nampa Civic Center hosts a variety of events throughout the year, including concerts, theater performances, and community gatherings. For a taste of local culture, be sure to visit the Nampa Train Depot Museum, which preserves the town's railroad history.
In addition to serving the Nampa community, our Denver Mattress store proudly serves several nearby cities, including Caldwell, Meridian, Eagle, Middleton, and Payette. We are also proud to serve the family and students of the area as we are located near the College of Western Idaho and the College of Idaho.
Whether you're a Nampa resident or a visitor to the area, we invite you to experience the exceptional service and quality products that Denver Mattress has to offer. Our team is here to help you find the perfect mattress and create the bedroom of your dreams. Come and visit us at our Nampa location today!