Mattress Store in Lubbock, TX 79414
1408.39 miles
Denver Mattress®
5021 W. Loop 289
Lubbock, TX 79414
Mon-Sat 10am-8pm
Sun 12pm-6pm

Call your local store for pickup hours.
Directions
53rd & West Loop 289
Directions
53rd & West Loop 289
Custom Mattress Fitting
It's easy to find a mattress that's custom-fitted to your unique body type at Denver Mattress®. Our in-store mattress experts use our patented Strength Resistance Test (SRT) to help you discover the mattress and pillow combination that suits your body best, promoting healthy spinal alignment and ensuring a deeper, more comfortable night's sleep. Denver Mattress® is dedicated to providing you with unbeatable value and an unmatched mattress buying experience.
Brands
Your DenverMattress® offers an unmatched selection of quality brands at unbeatable value. Your store is proud to sell product from brands you can trust to give you the most in style, selection, and value.
Services
We take pride in offering a great selection of brand name and factory-direct products at an incredible value, but it is our commitment to providing a superior customer experience that truly sets us apart. At every Denver Mattress®, you'll be greeted by our friendly, no-pressure sales staff who understand that their role is to educate rather than persuade. Our knowledgeable associates are there to guide you through the mattress buying process, offer insights as you test our extensive selection of products, and, of course, they also can also perform our patented Strength Resistance Test so you can discover a mattress that feels like it's custom-made for your unique body type.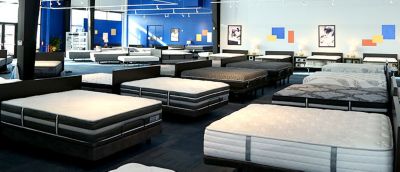 Welcome to Furniture Row® in Lubbock! Located inside West Loop 289 just past the South Plains Mall, Furniture Row has been a part of Lubbock's retail landscape since December 2010.
At Furniture Row, we understand that everyone has their unique style and taste. That's why we offer a diverse range of furniture collections to suit every preference. Our showroom is carefully curated to showcase the latest trends and timeless classics, ensuring you'll find the perfect furniture to complement your home.
One thing that folks who shop Furniture Row of Lubbock appreciate is our team of knowledgeable, down-to-earth sales professionals. They truly understand just how important it is to exceed their customer's expectations each and every day - and, instead of focusing on sales, they're trained to only provide our customers with relevant information so you can make a smart purchase.
Beyond our extensive selection and expert staff, what sets us apart is our commitment to quality. We source our furniture from trusted manufacturers known for their craftsmanship and durability. If that wasn't enough, our store also features a Denver Mattress®! Whether you're just starting your mattress research or know what you need, Denver Mattress is here to help! Our sales associates can help you identify the right mattress with a custom mattress fitting, and our factory-direct business model can help you save on all of our Denver Mattress brand products. We don't want you to just buy a mattress; we want you to bring the RIGHT mattress home for you.
Serving Communities in and near Lubbock, TX
Lubbock is a vibrant and welcoming town that captures the true essence of Texas. Known for its friendly residents, rich cultural heritage, and thriving arts scene, Lubbock offers a unique blend of modern amenities and small-town charm. From the Buddy Holly Center and National Ranching Heritage Center to the beautiful parks and delicious local cuisine, there is always something exciting to explore.
In addition to serving the residents of Lubbock, our Furniture Row store is proud to cater to the surrounding communities. Whether you're from Wolfforth, Slaton, Levelland, Plainview, Brownville, Post, Ralls or another nearby town, we are here to provide you with top-notch furniture and exceptional service. Our location is also near the campus of Texas Tech University, and we are honored to cater to the local students and families as well.
Visit Furniture Row in Lubbock and discover why we are the go-to furniture store for locals. Experience the quality, variety, and affordability that sets us apart - we can't wait to welcome you and assist you in finding the perfect furniture pieces that reflect your unique style and personality.