Mattress Store in Lakewood, CO 80215
1470.30 miles
Denver Mattress®
10301 W. 6th Ave.
Lakewood, CO 80215
Mon-Sat 10am-8pm
Sun 12pm-6pm

Call your local store for pickup hours.
Directions
Furniture Row Living & Denver Mattress at 6th & Kipling; Furniture Row Dining and Bedroom just two blocks West on 6th.
Directions
Furniture Row Living & Denver Mattress at 6th & Kipling; Furniture Row Dining and Bedroom just two blocks West on 6th.
Custom Mattress Fitting
It's easy to find a mattress that's custom-fitted to your unique body type at Denver Mattress®. Our in-store mattress experts use our patented Strength Resistance Test (SRT) to help you discover the mattress and pillow combination that suits your body best, promoting healthy spinal alignment and ensuring a deeper, more comfortable night's sleep. Denver Mattress® is dedicated to providing you with unbeatable value and an unmatched mattress buying experience.
Brands
Your DenverMattress® offers an unmatched selection of quality brands at unbeatable value. Your store is proud to sell product from brands you can trust to give you the most in style, selection, and value.
Services
We take pride in offering a great selection of brand name and factory-direct products at an incredible value, but it is our commitment to providing a superior customer experience that truly sets us apart. At every Denver Mattress®, you'll be greeted by our friendly, no-pressure sales staff who understand that their role is to educate rather than persuade. Our knowledgeable associates are there to guide you through the mattress buying process, offer insights as you test our extensive selection of products, and, of course, they also can also perform our patented Strength Resistance Test so you can discover a mattress that feels like it's custom-made for your unique body type.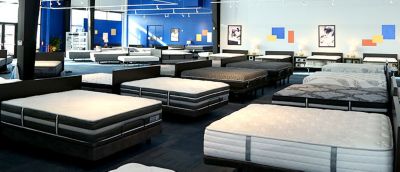 Welcome to Furniture Row in Lakewood, CO! Located in the heart of this vibrant town, our store offers a wide range of high-quality furniture and home décor to suit every style and budget. Whether you're furnishing a new home or simply looking to update your living space, Furniture Row is your go-to destination for all your furniture needs.
Conveniently situated 10301 W. 6th Ave near the intersection of 6th Ave and Kipling, our Lakewood location boasts a spacious showroom that is thoughtfully designed to inspire and delight. As soon as you step through our doors, you'll be greeted by our friendly and knowledgeable staff who are dedicated to helping you find the perfect pieces to create your dream home.
At Furniture Row, we pride ourselves on offering a unique shopping experience that sets us apart from other furniture stores in the area. Our store features an extensive selection of furniture, including sofas, dining sets, bedroom furniture, mattresses, and more. We carefully curate our collections to ensure that we have something to suit every taste and style, from classic and traditional to modern and contemporary.
Serving Communities in and near Lakewood, CO
Located just west of downtown Denver, Lakewood offers the perfect blend of urban convenience and natural beauty. With its picturesque parks, scenic lakes, and stunning mountain views, Lakewood is a true haven for outdoor enthusiasts.
The town of Lakewood is known for its vibrant arts scene, with numerous galleries, theaters, and cultural events taking place throughout the year. From art exhibits to live performances, there's always something exciting happening in Lakewood. And with its wide range of dining options, from cozy cafes to upscale restaurants, you'll never go hungry in this food lover's paradise.
In addition to Lakewood, Furniture Row also serves the surrounding communities of Golden, Wheat Ridge, Littleton, and Evergreen. These charming neighborhoods are full of character and offer a variety of amenities and attractions. Whether you're exploring the historic downtown of Golden, hiking in the beautiful foothills of Wheat Ridge, or enjoying the small-town charm of Littleton and Evergreen, there's always something new to discover. This location is also in the vicinity of several college campuses, including Red Rocks Community College, the Colorado School of Mines, and Colorado Christian University, making it an easy choice for incoming students.
At Furniture Row, we're proud to be a part of the Lakewood community and to serve the wonderful people of this area. We're committed to providing exceptional customer service and delivering the highest quality furniture to our valued customers. So, whether you're a long-time resident or new to the area, we invite you to visit our Lakewood store and experience the Furniture Row difference for yourself.