Mattress Store in Johnson City, TN 37615
327.24 miles
Denver Mattress®
112 Foy Fitch Ln
Johnson City, TN 37615
Mon-Sat 10am-8pm
Sun 12pm-6pm

Call your local store for pickup hours.
Directions
Gray,Tn Exit 13 off I-26 (Behind Burger King & Shell)
Directions
Gray,Tn Exit 13 off I-26 (Behind Burger King & Shell)
Custom Mattress Fitting
It's easy to find a mattress that's custom-fitted to your unique body type at Denver Mattress®. Our in-store mattress experts use our patented Strength Resistance Test (SRT) to help you discover the mattress and pillow combination that suits your body best, promoting healthy spinal alignment and ensuring a deeper, more comfortable night's sleep. Denver Mattress® is dedicated to providing you with unbeatable value and an unmatched mattress buying experience.
Brands
Your DenverMattress® offers an unmatched selection of quality brands at unbeatable value. Your store is proud to sell product from brands you can trust to give you the most in style, selection, and value.
Services
We take pride in offering a great selection of brand name and factory-direct products at an incredible value, but it is our commitment to providing a superior customer experience that truly sets us apart. At every Denver Mattress®, you'll be greeted by our friendly, no-pressure sales staff who understand that their role is to educate rather than persuade. Our knowledgeable associates are there to guide you through the mattress buying process, offer insights as you test our extensive selection of products, and, of course, they also can also perform our patented Strength Resistance Test so you can discover a mattress that feels like it's custom-made for your unique body type.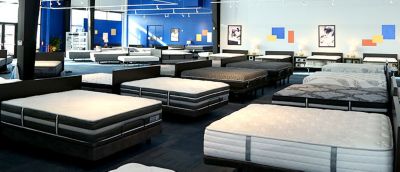 You would expect a mountain town to offer plenty of outdoor adventure. With its close proximity to Cherokee National Forest, Buffalo Mountain Park, and Boone Lake, Johnson City, Tennessee does not disappoint. Now add a vibrant downtown with great dining, shopping, and entertainment options, and you quickly realize that Johnson City has it all.
Furniture Row® became part of the Johnson City community in November of 2007 and serves northeastern Tennessee as well as neighboring communities in Virginia, Kentucky, and North Carolina that border Tennessee. Furniture Row® is conveniently located on Johnson City's northwest side - Exit 13 off Interstate 26.
Serving Communities in and near Johnson City, TN
Johnson City is an economic hub that is largely fueled by the education and healthcare sectors. The leading higher education institution is East Tennessee State University. Others in the area include Milligan College, Tusculum College, King College, and Northeast State Community College. The area's Med-Tech corridor is anchored by the Johnson City Medical Center, Franklin Woods Community Hospital, and affiliated facilities. Furniture Row® is grateful that for many who are associated with these institutions and their families, we have become their furniture retailer of choice.
With its expansive selection of today's most popular looks, Furniture Row® is a destination shopping experience like no other. From rustic to modern, traditional to contemporary, Furniture Row® can help you furnish any room in your home.
Mattresses with wide-ranging options shouldn't get in your way to a restful night's sleep. Let us help you identify the right mattress by discovering what works best for you. Whether you're just starting your mattress research or know what you need, Denver Mattress® is here to help! We don't want you to just buy a mattress; we want you to bring the RIGHT mattress home for you.
If you want to keep up with all the new and exciting products that Furniture Row® carries, you should visit our store, browse our website, or sign up for our in-home catalogs. Better yet... get the fullest Furniture Row® experience by doing all three. We're pretty sure you will be surprised and delighted with what you see.
One thing our Johnson City Furniture Row® team has learned, there is nothing better than a satisfied customer. That's why they are fully committed to providing the best customer service possible each and every day.