Mattress Store - Glenwood Springs CO 81601
1588.53 miles
Denver Mattress®
3200 S Glen Ave
Suite A
Glenwood Springs, CO 81601
Mon-Sat 10am-8pm
Sun 12pm-6pm

Call your local store for pickup hours.
Directions
On S Glen, South of 27th, Next to Office Depot
Directions
On S Glen, South of 27th, Next to Office Depot
Custom Mattress Fitting
It's easy to find a mattress that's custom-fitted to your unique body type at Denver Mattress®. Our in-store mattress experts use our patented Strength Resistance Test (SRT) to help you discover the mattress and pillow combination that suits your body best, promoting healthy spinal alignment and ensuring a deeper, more comfortable night's sleep. Denver Mattress® is dedicated to providing you with unbeatable value and an unmatched mattress buying experience.
Brands
Your DenverMattress® offers an unmatched selection of quality brands at unbeatable value. Your store is proud to sell product from brands you can trust to give you the most in style, selection, and value.
Services
We take pride in offering a great selection of brand name and factory-direct products at an incredible value, but it is our commitment to providing a superior customer experience that truly sets us apart. At every Denver Mattress®, you'll be greeted by our friendly, no-pressure sales staff who understand that their role is to educate rather than persuade. Our knowledgeable associates are there to guide you through the mattress buying process, offer insights as you test our extensive selection of products, and, of course, they also can also perform our patented Strength Resistance Test so you can discover a mattress that feels like it's custom-made for your unique body type.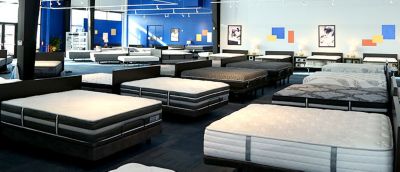 Welcome to Furniture Row and Denver Mattress in Glenwood Springs, CO – your one-stop-shop for all your furniture needs. Our store is located at 3202 S. Glen Ave, and we are proud to serve the local communities of Glenwood Springs, Aspen, Vail, and beyond.
Recently expanded and remodeled to include both a Denver Mattress and Furniture Row, our store features a vast selection of high-quality mattresses and furniture at affordable prices. We carry a wide selection of name brand and Denver Mattress brand mattresses, and our Furniture Row section has everything you need to furnish your entire home, from bedroom sets and dining tables to sofas and accent chairs. Our knowledgeable and friendly staff are always ready to assist you in finding the perfect pieces to fit your style and budget.
In addition to our vast selection of furniture, we also offer a range of services to make your shopping experience even more convenient. Our delivery team can bring your new furniture straight to your doorstep, and our financing options make it easy to pay for your purchase over time.
Serving Communities in and near Glenwood Springs, CO
When you visit our store in Glenwood Springs, you'll also have the opportunity to explore the charming town that we call home. Located in the heart of the Colorado Rockies, Glenwood Springs is a vibrant and picturesque community that offers something for everyone. Whether you're a nature lover, a history buff, or an adventure seeker, you'll find plenty to do and see in our town.
Some of the local attractions that we recommend include the Glenwood Hot Springs Pool, the Glenwood Caverns Adventure Park, and the Yampah Spa and Vapor Caves. You can also take a stroll through the historic downtown area, which is filled with unique shops, restaurants, and galleries.
At Furniture Row and Denver Mattress in Glenwood Springs, CO, we are committed to providing our customers with the best possible shopping experience. Whether you're a longtime resident or just passing through, we invite you to stop by our store and discover why we're a local favorite.