Mattress Store in Frisco, CO 80443
1523.32 miles
Denver Mattress®
849 N. Summit Blvd.
Frisco, CO 80443
Mon-Sat 10am-8pm
Sun 12pm-6pm

Call your local store for pickup hours.
Directions
Next to Napa Auto Parts, across from Wal-Mart
Directions
Next to Napa Auto Parts, across from Wal-Mart
Custom Mattress Fitting
It's easy to find a mattress that's custom-fitted to your unique body type at Denver Mattress®. Our in-store mattress experts use our patented Strength Resistance Test (SRT) to help you discover the mattress and pillow combination that suits your body best, promoting healthy spinal alignment and ensuring a deeper, more comfortable night's sleep. Denver Mattress® is dedicated to providing you with unbeatable value and an unmatched mattress buying experience.
Brands
Your DenverMattress® offers an unmatched selection of quality brands at unbeatable value. Your store is proud to sell product from brands you can trust to give you the most in style, selection, and value.
Services
We take pride in offering a great selection of brand name and factory-direct products at an incredible value, but it is our commitment to providing a superior customer experience that truly sets us apart. At every Denver Mattress®, you'll be greeted by our friendly, no-pressure sales staff who understand that their role is to educate rather than persuade. Our knowledgeable associates are there to guide you through the mattress buying process, offer insights as you test our extensive selection of products, and, of course, they also can also perform our patented Strength Resistance Test so you can discover a mattress that feels like it's custom-made for your unique body type.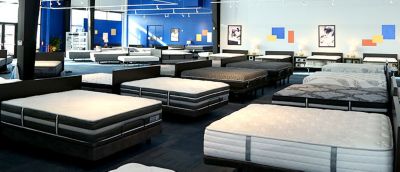 Welcome to your Denver Mattress in Frisco, CO! Located at 849 North Summit Blvd. in the heart of Frisco, our store is your one-stop destination for all your mattress and bedding needs.
At Denver Mattress, we pride ourselves on providing top-notch customer service and high-quality products. We offer a wide range of mattresses from America's most trusted manufacturers, as well as from our own, highly-rated Denver Mattress brand, so you can find the perfect mattress for your comfort preferences and budget. In addition to mattresses, we also offer a variety of bedding accessories, including pillows, sheets, and mattress protectors. Our store features the latest innovations in sleep technology, so you can rest easy knowing you're getting the best sleep possible.
When you enter our store you'll be greeted by our knowledgeable and friendly staff whose only goal is to help you find the perfect mattress for your unique needs. Unlike at other retailers, our staff is trained to educate our customers, and they even provide custom mattress and pillow fittings so you can better understand which types of mattresses work best for your body type and sleep style.
Serving Communities in and near Frisco, CO
Frisco is a charming mountain town nestled in the heart of the Rocky Mountains. Known for its world-class skiing and outdoor recreation, Frisco attracts visitors from all over the country.
In addition to Frisco, we also proudly serve the surrounding communities of Breckenridge, Dillon, Silverthorne, Keystone, and Copper Mountain. These communities are home to outdoor enthusiasts and adventure seekers, making them the perfect fit for our high-quality mattresses and sleep solutions. We also serve the communities of Vail, Leadville, Alma, Fairplay Loveland, Winterpark, and Steamboat Springs.
Whether you're a local resident or just passing through, we invite you to visit the beautiful Denver Mattress in Frisco. Our friendly staff is ready to assist you in finding the perfect mattress that will provide you with the best night's sleep you've ever had. Come experience the Denver Mattress difference today!