Mattress Store in Fort Wayne, IN 46818
431.14 miles
Denver Mattress®
5811 W. Creek Blvd.
Fort Wayne, IN 46818
Mon-Sat 10am-8pm
Sun 12pm-6pm

Call your local store for pickup hours.
Directions
During Detour: Take Goshen Rd, turn East on W Washington Center Rd, South on W Creek Blvd
Directions
During Detour: Take Goshen Rd, turn East on W Washington Center Rd, South on W Creek Blvd
Custom Mattress Fitting
It's easy to find a mattress that's custom-fitted to your unique body type at Denver Mattress®. Our in-store mattress experts use our patented Strength Resistance Test (SRT) to help you discover the mattress and pillow combination that suits your body best, promoting healthy spinal alignment and ensuring a deeper, more comfortable night's sleep. Denver Mattress® is dedicated to providing you with unbeatable value and an unmatched mattress buying experience.
Brands
Your DenverMattress® offers an unmatched selection of quality brands at unbeatable value. Your store is proud to sell product from brands you can trust to give you the most in style, selection, and value.
Services
We take pride in offering a great selection of brand name and factory-direct products at an incredible value, but it is our commitment to providing a superior customer experience that truly sets us apart. At every Denver Mattress®, you'll be greeted by our friendly, no-pressure sales staff who understand that their role is to educate rather than persuade. Our knowledgeable associates are there to guide you through the mattress buying process, offer insights as you test our extensive selection of products, and, of course, they also can also perform our patented Strength Resistance Test so you can discover a mattress that feels like it's custom-made for your unique body type.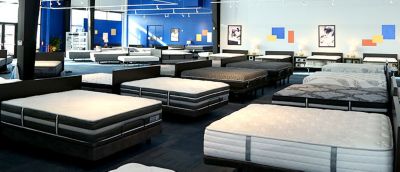 First opened in early 2010, Furniture Row® has the affordable pricing and incredible selection of multiple specialty home furniture stores, and it is located on the northwest side of town one mile west of Lima Road off Washington Center Road just past the Cracker Barrel and Gordon's Goods & Services. Beyond the greater Fort Wayne market, Furniture Row® serves the communities of New Haven, Columbia City, Marion, and Fremont as well as some towns in neighboring northwestern Ohio.
Serving Communities in and near Fort Wayne, IN
Originally settled in the northeastern corner of Indiana at the confluence of the St. Joseph, St. Mary's, and Maumee rivers, Fort Wayne is now the Hoosier State's second largest city. There are 18 colleges within a 50-mile radius of Fort Wayne including Indiana Institute of Technology, Indiana University-Purdue University, Indiana Wesleyan University, and Taylor University. Students living on and off campus have come to rely on Furniture Row® to help furnish their dorm rooms and apartments.
Similarly, others who call northeastern Indiana home, rely on Furniture Row® for great deals on great looking living room, dining room, bedroom, and outdoor furniture. And whatever your style or taste, our extensive selection means you much more likely to exactly what you're looking for.
Mattresses with wide-ranging options shouldn't get in your way to a restful night's sleep. Let us help you identify the right mattress by discovering what works best for you. Whether you're just starting your mattress research or know what you need, Denver Mattress® is here to help! We don't want you to just buy a mattress; we want you to bring the RIGHT mattress home for you.
As part of the Fort Wayne community, Furniture Row® team members take customer service very seriously. They are committed to delivering an in-store experience like no other furniture retailer.
We hope to see you at Furniture Row® soon. Until then, check out what's new, fresh, and exciting on our website. And don't forget to sign up to receive our in-home catalogs.