Mattress Store in Fort Wayne, IN 46818
431.14 miles
Denver Mattress®
5811 W. Creek Blvd.
Fort Wayne, IN 46818
Mon-Sat 10am-8pm
Sun 12pm-6pm

Call your local store for pickup hours.
Directions
During Detour: Take Goshen Rd, turn East on W Washington Center Rd, South on W Creek Blvd
Directions
During Detour: Take Goshen Rd, turn East on W Washington Center Rd, South on W Creek Blvd
Custom Mattress Fitting
It's easy to find a mattress that's custom-fitted to your unique body type at Denver Mattress®. Our in-store mattress experts use our patented Strength Resistance Test (SRT) to help you discover the mattress and pillow combination that suits your body best, promoting healthy spinal alignment and ensuring a deeper, more comfortable night's sleep. Denver Mattress® is dedicated to providing you with unbeatable value and an unmatched mattress buying experience.
Brands
Your DenverMattress® offers an unmatched selection of quality brands at unbeatable value. Your store is proud to sell product from brands you can trust to give you the most in style, selection, and value.
Services
We take pride in offering a great selection of brand name and factory-direct products at an incredible value, but it is our commitment to providing a superior customer experience that truly sets us apart. At every Denver Mattress®, you'll be greeted by our friendly, no-pressure sales staff who understand that their role is to educate rather than persuade. Our knowledgeable associates are there to guide you through the mattress buying process, offer insights as you test our extensive selection of products, and, of course, they also can also perform our patented Strength Resistance Test so you can discover a mattress that feels like it's custom-made for your unique body type.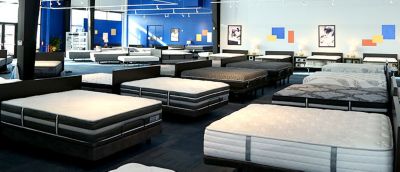 Welcome to Furniture Row in Fort Wayne! We are thrilled to be your premier furniture store in the area, offering a wide selection of high-quality furniture and home decor. Originally opened in early 2010, your Fort Wayne Furniture Row® is conveniently located at 5807 W. Creek Blvd., just off Washington Center Road and past Gordon's Goods & Services.
At Furniture Row Fort Wayne, we pride ourselves on providing a unique and enjoyable shopping experience. Our showroom is thoughtfully designed to showcase a variety of furniture styles, from modern and contemporary to classic and traditional. Whether you're furnishing your living room, bedroom, dining room, or home office, we have everything you need to create your dream space.
One of the standout features of our store is our knowledgeable and friendly staff. Our team is dedicated to helping you find the perfect pieces that fit your style, budget, and functional needs. We understand that furniture shopping can sometimes feel overwhelming, so we are here to guide you every step of the way. Whether you're looking for a specific item or need design advice, we are here to assist you and make your shopping experience a breeze.
In addition to our extensive furniture collection, our store also features a beautiful Denver Mattress showroom! Denver Mattress offers a wide range of mattresses from America's most trusted manufacturers, as well as from our own highly-rated Denver Mattress brand. Whether you prefer a plush, firm, or hybrid mattress, we have options to suit every sleep style and body type. Our knowledgeable staff can even perform custom mattress fittings, guiding you through the selection process to help make your decision even easier.
Serving Communities in and near Fort Wayne, IN
Fort Wayne is a vibrant and welcoming city that offers a blend of history, culture, and outdoor beauty. Known as the "City of Churches," Fort Wayne is home to numerous historic landmarks and architectural gems. Immerse yourself in the city's rich history by visiting the Historic Fort Wayne, a reconstructed 1815 military fort. Explore the Fort Wayne Museum of Art and discover a diverse collection of artworks from around the world.
For nature lovers, Fort Wayne offers plenty of outdoor recreational opportunities. Enjoy a stroll along the Rivergreenway, a scenic trail that winds along the banks of the St. Joseph River. Visit the beautiful Foellinger-Freimann Botanical Conservatory and be captivated by the stunning displays of plants and flowers. Golfers will appreciate the well-manicured courses in the area, offering a challenging round amidst picturesque landscapes.
Along with the residents of Fort Wayne, Furniture Row proudly serves the surrounding communities of New Haven, Leo-Cedarville, Huntertown, Columbia City, Marion, Roanoke, and Aboite. If that wasn't enough, our store is also proud to serve the students and families of the area as we are located near a number of notable universities, such as Indiana University–Purdue University Fort Wayne (IPFW), the University of Saint Francis, the Indiana Institute of Technology, Indiana Wesleyan University, Taylor University, and many more.
Whether you're a long-time resident or new to the area, Furniture Row Fort Wayne is here to serve you. We are proud to be a part of this vibrant community and are committed to providing our customers with the best furniture shopping experience possible. Visit us today and let us help you transform your house into a home.