Mattress Store in Erie, PA 16509
250.17 miles
Denver Mattress®
6037 Peach St
Erie, PA 16509
Mon-Sat 10am-8pm
Sun 12pm-6pm

Call your local store for pickup hours.
Directions
6037 Peach St, Next to Olive Garden & Barnes and Noble
Directions
6037 Peach St, Next to Olive Garden & Barnes and Noble
Custom Mattress Fitting
It's easy to find a mattress that's custom-fitted to your unique body type at Denver Mattress®. Our in-store mattress experts use our patented Strength Resistance Test (SRT) to help you discover the mattress and pillow combination that suits your body best, promoting healthy spinal alignment and ensuring a deeper, more comfortable night's sleep. Denver Mattress® is dedicated to providing you with unbeatable value and an unmatched mattress buying experience.
Brands
Your DenverMattress® offers an unmatched selection of quality brands at unbeatable value. Your store is proud to sell product from brands you can trust to give you the most in style, selection, and value.
Services
We take pride in offering a great selection of brand name and factory-direct products at an incredible value, but it is our commitment to providing a superior customer experience that truly sets us apart. At every Denver Mattress®, you'll be greeted by our friendly, no-pressure sales staff who understand that their role is to educate rather than persuade. Our knowledgeable associates are there to guide you through the mattress buying process, offer insights as you test our extensive selection of products, and, of course, they also can also perform our patented Strength Resistance Test so you can discover a mattress that feels like it's custom-made for your unique body type.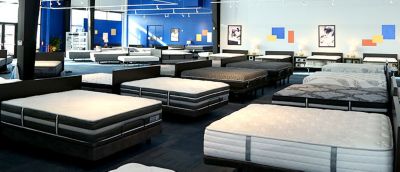 Across from the Canadian province of Ontario and along the southern shore of the Great Lake from which it gets its name, lies the northwestern Pennsylvanian city of Erie. Because of this location, Erie has become the main access point to Lake Erie, the Great Lakes, and the Saint Lawrence Seaway. It also provides a seemingly endless number of outdoor activities, regardless of the season.
Of course, when it's time to head inside, Furniture Row® is ready to provide a seemingly endless number of ways to make any room in your home pretty spectacular too. First opened in early 2008, Furniture Row® is located south of the Millcreek Mall on Peach Street and serves the Tri-State area of northwestern Pennsylvania, eastern Ohio, and western New York.
Serving Communities in and near Erie, PA
Erie offers a near equal mix of both four-year higher education universities and two-year business oriented centers. The former include Edinboro University of Pennsylvania, Mercyhurst University, Gannon University, and Penn State Erie (The Behrend College). The latter include Fortis Institute, Triangle Tech, Corry Higher Education Council, and Erie Institute of Technology.
Whatever your style and whatever your budget, the extensive selection inside Furniture Row® all but guarantees you're going to find whatever you're looking for. From casual to formal, rustic to modern, we have it here. Looking to furnish a living room, dining room, bedroom, kid's room, or outdoor space? Look no further.
Mattresses with wide-ranging options shouldn't get in your way to a restful night's sleep. Let us help you identify the right mattress by discovering what works best for you. Whether you're just starting your mattress research or know what you need, Denver Mattress® is here to help! We don't want you to just buy a mattress; we want you to bring the RIGHT mattress home for you.
Being members of this community themselves, our Furniture Row® of Erie team members have developed a strong commitment to delivering exceptional customer service. Importantly, you can expect the same level of service in our store, on the phone, or delivering to your home.
The buyers at Furniture Row® are constantly looking for exciting new products to meet the needs of today's savvy customers. It's easy to keep up with the latest looks as well as our best deals by browsing our website. You can also sign up for our in-home catalogs. But if you want the full Furniture Row® experience, all you need to do is stop by our Erie location.