Mattress Store in Corpus Christi, TX 78412
1382.58 miles
Denver Mattress®
7602 South Padre Island Dr
Corpus Christi, TX 78412
Mon-Sat 10am-8pm
Sun 12pm-6pm

Call your local store for pickup hours.
Directions
S.P.I.D. between Ennis Joslin Rd and Rodd Field Rd. Exit @ Ennis Joslin Rd
Directions
S.P.I.D. between Ennis Joslin Rd and Rodd Field Rd. Exit @ Ennis Joslin Rd
Custom Mattress Fitting
It's easy to find a mattress that's custom-fitted to your unique body type at Denver Mattress®. Our in-store mattress experts use our patented Strength Resistance Test (SRT) to help you discover the mattress and pillow combination that suits your body best, promoting healthy spinal alignment and ensuring a deeper, more comfortable night's sleep. Denver Mattress® is dedicated to providing you with unbeatable value and an unmatched mattress buying experience.
Brands
Your DenverMattress® offers an unmatched selection of quality brands at unbeatable value. Your store is proud to sell product from brands you can trust to give you the most in style, selection, and value.
Services
We take pride in offering a great selection of brand name and factory-direct products at an incredible value, but it is our commitment to providing a superior customer experience that truly sets us apart. At every Denver Mattress®, you'll be greeted by our friendly, no-pressure sales staff who understand that their role is to educate rather than persuade. Our knowledgeable associates are there to guide you through the mattress buying process, offer insights as you test our extensive selection of products, and, of course, they also can also perform our patented Strength Resistance Test so you can discover a mattress that feels like it's custom-made for your unique body type.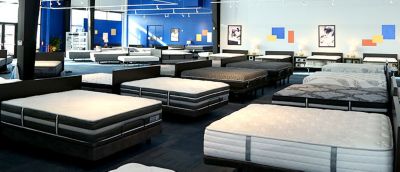 Your local Corpus Christi, TX Furniture Row® has the affordable pricing and incredible selection of multiple specialty home furniture stores, and we're located at 7602 South Padre Island Drive, just off the Ennis Joslin Exit.
At Furniture Row, we take pride in offering a wide selection of high-quality furniture pieces and home décor accessories. Whether you're looking to furnish your living room, bedroom, dining area, or any other space in your home, we have everything you need to create your dream space. From comfortable sofas and stylish sectionals to elegant dining sets and cozy beds, our showroom is filled with furniture options to suit every taste and budget.
But what sets our Corpus Christi store apart from the rest? Here, you'll find a team of friendly and knowledgeable sales associates who are dedicated to helping you find the perfect pieces for your home. They are ready to assist you in selecting the right furniture that matches your style and fits seamlessly into your living space. With their expertise, you can be confident that you're making the best choices for your home.
In addition to our exceptional product selection and customer service, we also offer convenient financing options to make your furniture shopping experience even more enjoyable. Our goal is to provide you with a stress-free and affordable way to furnish your home, so you can focus on creating beautiful memories with your loved ones.
Serving Communities in and near Austin, TX
Nestled along the Gulf of Mexico, Corpus Christi is a coastal city known for its stunning beaches, rich history, and vibrant culture. Whether you're exploring the Texas State Aquarium, strolling along the Bayfront, or indulging in delicious seafood, there's always something exciting to do in Corpus Christi.
As a local favorite, Furniture Row is honored to serve not only Corpus Christi but also the surrounding communities. From the charming neighborhoods of Padre Island to the bustling city of Portland, our store is a go-to destination for residents seeking quality furniture and exceptional service. Additionally, this location serves the residents of Port Aransas, Aransas Pass, Ingleside, Gregory, Rockport, Robstown, Odem, and Kingsville; and we're located near near the Corpus Christi campus of Texas A&M, the Kingsville campus of Texas A&M, and Del Mar Community College. We are proud to be a part of these communities and look forward to helping you create the home of your dreams.
So, whether you're a long-time resident or a newcomer to Corpus Christi, Furniture Row is here to serve you. Visit our store today and discover why we are the preferred choice for all your furniture needs.