Mattress Store College Station + Bryan, TX
1211.25 miles
Denver Mattress®
271 N. Earl Rudder Freeway
Bryan, TX 77802
Mon-Sat 10am-8pm
Sun 12pm-6pm

Call your local store for pickup hours.
Directions
North Earl Rudder Freeway, 1 mile South of Lowe's & Wal-Mart
Directions
North Earl Rudder Freeway, 1 mile South of Lowe's & Wal-Mart
Custom Mattress Fitting
It's easy to find a mattress that's custom-fitted to your unique body type at Denver Mattress®. Our in-store mattress experts use our patented Strength Resistance Test (SRT) to help you discover the mattress and pillow combination that suits your body best, promoting healthy spinal alignment and ensuring a deeper, more comfortable night's sleep. Denver Mattress® is dedicated to providing you with unbeatable value and an unmatched mattress buying experience.
Brands
Your DenverMattress® offers an unmatched selection of quality brands at unbeatable value. Your store is proud to sell product from brands you can trust to give you the most in style, selection, and value.
Services
We take pride in offering a great selection of brand name and factory-direct products at an incredible value, but it is our commitment to providing a superior customer experience that truly sets us apart. At every Denver Mattress®, you'll be greeted by our friendly, no-pressure sales staff who understand that their role is to educate rather than persuade. Our knowledgeable associates are there to guide you through the mattress buying process, offer insights as you test our extensive selection of products, and, of course, they also can also perform our patented Strength Resistance Test so you can discover a mattress that feels like it's custom-made for your unique body type.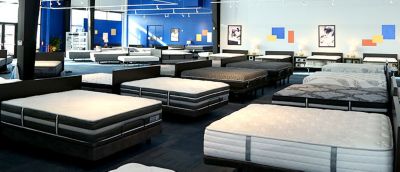 Welcome to Furniture Row in Bryan, Texas! Located at 267 N. Earl Rudder Freeway, our store is a local favorite for all your furniture needs. With a wide selection of high-quality furniture and exceptional customer service, we are here to help you create the home of your dreams.
At Furniture Row, we understand that each person has their unique style and taste. That's why we offer a diverse range of furniture collections to suit every preference. Whether you're looking for modern, contemporary, traditional, or rustic pieces, we have something for everyone. Our showroom is carefully curated to showcase the latest trends and timeless classics, ensuring you'll find the perfect furniture to complement your home.
Beyond our extensive selection, what sets us apart is our commitment to quality. We source our furniture from trusted manufacturers known for their craftsmanship and durability. From luxurious sofas and cozy recliners to elegant dining sets and stylish bedroom furniture, every piece in our store is built to last. We believe that investing in furniture should be a long-term decision, and we strive to provide you with pieces that will stand the test of time.
Serving Communities in and near the College Station - Bryan, TX Metro Area
Nestled in the heart of Texas, Bryan is a vibrant town known for its warm hospitality and strong sense of community. With its charming downtown area, lively arts scene, and numerous outdoor recreational opportunities, Bryan offers a wonderful quality of life. We are proud to be a part of this thriving community and to serve our neighbors in Bryan, as well as the surrounding areas.
In addition to Bryan, our store is a major retail hub that draws customers from communities within a hundred mile radius, including College Station, Navasota, Hearne,Caldwell, and the Houstom metro area. This location also serves families, students, and retired military of the surrounding communities, and is near the main campus of Texas A & M University. We understand that furnishing a home is an important task, and we are dedicated to providing exceptional service to all our customers. Whether you're a long-time resident or new to the area, we invite you to visit our store and experience the Furniture Row difference for yourself.
At your Furniture Row in Bryan, we are more than just a furniture store. We are your trusted partner in creating a beautiful and comfortable home. Come and explore our showroom today, and let our friendly and knowledgeable staff assist you in finding the perfect furniture pieces to bring your vision to life.