Mattress Store in Boulder, CO 80301
1475.61 miles
Denver Mattress®
1945 28th Street
Boulder, CO 80301
Mon-Sat 10am-8pm
Sun 12pm-6pm

Call your local store for pickup hours.
Custom Mattress Fitting
It's easy to find a mattress that's custom-fitted to your unique body type at Denver Mattress®. Our in-store mattress experts use our patented Strength Resistance Test (SRT) to help you discover the mattress and pillow combination that suits your body best, promoting healthy spinal alignment and ensuring a deeper, more comfortable night's sleep. Denver Mattress® is dedicated to providing you with unbeatable value and an unmatched mattress buying experience.
Brands
Your DenverMattress® offers an unmatched selection of quality brands at unbeatable value. Your store is proud to sell product from brands you can trust to give you the most in style, selection, and value.
Services
We take pride in offering a great selection of brand name and factory-direct products at an incredible value, but it is our commitment to providing a superior customer experience that truly sets us apart. At every Denver Mattress®, you'll be greeted by our friendly, no-pressure sales staff who understand that their role is to educate rather than persuade. Our knowledgeable associates are there to guide you through the mattress buying process, offer insights as you test our extensive selection of products, and, of course, they also can also perform our patented Strength Resistance Test so you can discover a mattress that feels like it's custom-made for your unique body type.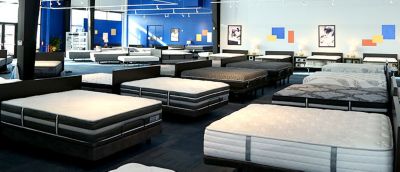 Welcome to your Denver Mattress in Boulder, CO! Located at 1945 28th Street, our Boulder store is easily accessible and provides ample parking for our valued customers. As you step inside, you'll be greeted by our friendly and knowledgeable staff who are committed to helping you find the perfect mattress for your needs.
We offer a wide range of mattresses from America's most trusted manufacturers, as well as from our own, highly-rated Denver Mattress brand, so you can find the perfect mattress for your comfort preferences and budget. Whether you prefer a plush, firm, or hybrid mattress, we have options to suit every sleep style and body type - plus our knowledgeable staff can even perform custom mattress fittings as they guide you through the selection process to help make your decision even easier.
In addition to our extensive mattress collection, we also offer a variety of sleep accessories to enhance your sleep experience. From pillows and mattress protectors to adjustable bed bases and bedding, we have everything you need to create your dream sleep environment.
Serving Communities in and near Boulder, CO
Boulder, regularly named one of the healthiest cities in the nation, is situated at the base of the iconic "Flatirons" foothills that border the Rocky Mountains. With its stunning backdrop, Boulder is a haven to outdoor enthusiasts with near-endless opportunities for hiking, biking, and rock climbing. Visitors to Boulder can also explore the lively downtown area, filled with eclectic shops, delicious restaurants, and bustling farmers markets; and they're sure to love Boulder's vibrant arts scene with numerous events including the Boulder International Film Festival, the Pearl Street Arts Fest, and the Boulder Creek Festival.
Our store proudly serves not only Boulder but also the surrounding communities of Broomfield, Louisville, Erie, Niwot, Lafayette, as well as mountain customers from Lyons, Ward, Estes Park, and Nederland. This location is also a hotspot for students and families as we are within walking distance of the University of Colorado, Naropa University, and we're just a short drive from Front Range Community College. We understand that each community has its unique needs and preferences, and we are dedicated to providing personalized service to every customer.
We are proud to have become a valued member of Boulder and the vibrant surrounding community. Whether you're a local resident or visiting from a nearby town, come visit the Denver Mattress in Boulder so we can help you discover the perfect mattress for a better night's sleep.