Mattress Store in Billings, MT 59101
1643.23 miles
Denver Mattress®
8108 S. Frontage Rd.
Billings, MT 59106
Mon-Sat 10am-8pm
Sun 12pm-6pm

Call your local store for pickup hours.
Directions
I-90 Frontage Road at Zoo Exit, Just Past Shiloh Road Overpass
Directions
I-90 Frontage Road at Zoo Exit, Just Past Shiloh Road Overpass
Custom Mattress Fitting
It's easy to find a mattress that's custom-fitted to your unique body type at Denver Mattress®. Our in-store mattress experts use our patented Strength Resistance Test (SRT) to help you discover the mattress and pillow combination that suits your body best, promoting healthy spinal alignment and ensuring a deeper, more comfortable night's sleep. Denver Mattress® is dedicated to providing you with unbeatable value and an unmatched mattress buying experience.
Brands
Your DenverMattress® offers an unmatched selection of quality brands at unbeatable value. Your store is proud to sell product from brands you can trust to give you the most in style, selection, and value.
Services
We take pride in offering a great selection of brand name and factory-direct products at an incredible value, but it is our commitment to providing a superior customer experience that truly sets us apart. At every Denver Mattress®, you'll be greeted by our friendly, no-pressure sales staff who understand that their role is to educate rather than persuade. Our knowledgeable associates are there to guide you through the mattress buying process, offer insights as you test our extensive selection of products, and, of course, they also can also perform our patented Strength Resistance Test so you can discover a mattress that feels like it's custom-made for your unique body type.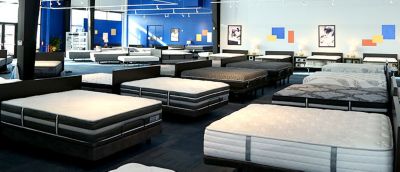 Your local Billings, MT Furniture Row® has the affordable pricing and incredible selection of multiple specialty home furniture stores, and it is located at the west end of town, just offof I-90. Take Highway I-90 West toward Laurel to exit443/Zoo Drive exit tothe frontage road. Head West for one mile to reach this location.
Serving Communities in and near Billings, MT
This Billings location serves local families and students, as it is near Montana State University, and Rocky Mountain College campuses. Additionally this store is proud to serve surrounding Native American reservation communities, the Crow Nation, and the agricultural farming and ranching communities.
Nicknamed the Magic City, Billings is the site of an ancient lake where the shore created the famous cliffs known as the Rimrocks that surround the city.
Billings is the gateway to Yellowstone National Park only 129 miles away. Beartooth Highway is only 108 miles away. The Pryor Mountains, Beartooth Mountains, Crazy Mountains, Bighorn Mountains, Snowy Mountains, and the Wolf Mountains surround Billings, and make the town picturesque.