Mattress Store in N. Little Rock AR 72117
864.16 miles
Denver Mattress®
3500 N. Landers Rd.
North Little Rock, AR 72117
Mon-Sat 10am-8pm
Sun 12pm-6pm

Call your local store for pickup hours.
Directions
Off McCain Blvd. in the former HQ Building
Directions
Off McCain Blvd. in the former HQ Building
Custom Mattress Fitting
It's easy to find a mattress that's custom-fitted to your unique body type at Denver Mattress®. Our in-store mattress experts use our patented Strength Resistance Test (SRT) to help you discover the mattress and pillow combination that suits your body best, promoting healthy spinal alignment and ensuring a deeper, more comfortable night's sleep. Denver Mattress® is dedicated to providing you with unbeatable value and an unmatched mattress buying experience.
Brands
Your DenverMattress® offers an unmatched selection of quality brands at unbeatable value. Your store is proud to sell product from brands you can trust to give you the most in style, selection, and value.
Services
We take pride in offering a great selection of brand name and factory-direct products at an incredible value, but it is our commitment to providing a superior customer experience that truly sets us apart. At every Denver Mattress®, you'll be greeted by our friendly, no-pressure sales staff who understand that their role is to educate rather than persuade. Our knowledgeable associates are there to guide you through the mattress buying process, offer insights as you test our extensive selection of products, and, of course, they also can also perform our patented Strength Resistance Test so you can discover a mattress that feels like it's custom-made for your unique body type.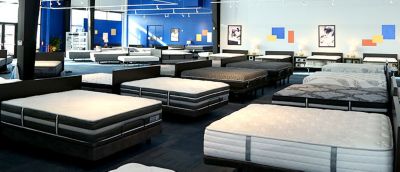 Welcome to Furniture Row in Little Rock! Located at 3500 N. Landers Road, our store offers the affordable pricing and incredible selection of multiple specialty home furniture stores, all under one convenient roof.
At Furniture Row, we understand that finding great furniture is essential in creating a comfortable and stylish home. That's why we offer a vast range of high-quality furniture pieces for every room in your house. From cozy sofas and elegant dining sets to functional office furniture and trendy bedroom decor, our showroom is filled with options to suit your personal style. Whether you prefer classic designs or modern aesthetics, our knowledgeable staff is here to help you find the perfect pieces that fit your taste and budget.
One of the unique features of our Little Rock location is the attached Denver Mattress store. With a wide selection of mattresses, bedding accessories, and sleep essentials, Denver Mattress is your one-stop shop for all things sleep-related. Whether you're looking for a memory foam mattress, an adjustable bed frame, or comfortable pillows, our knowledgeable sleep experts will guide you in making the right choice for a restful night's sleep.
Serving Communities in and near Little Rock, AR
Little Rock, the capital of Arkansas, is a vibrant city with a rich history and a diverse community. Known for its beautiful riverfront, thriving arts scene, and southern hospitality, Little Rock offers a charming blend of modern amenities and small-town charm.
When visiting our Furniture Row location in Little Rock, take the time to explore some of the popular destinations and attractions the city has to offer. The Clinton Presidential Library is a must-visit for history buffs, showcasing exhibits and artifacts from the presidency of Bill Clinton. The River Market District is another popular spot, featuring a variety of restaurants, shops, and entertainment options along the Arkansas River.
In addition to serving the residents of Little Rock, our store proudly caters to several local communities in the area, including North Little Rock, Jonesboro, Pine Bluff, Benton, Cabot, and Jacksonville. We are also proud to serve the families and students in the area as our store is located near the campuses of the University of Arkansas, Pulaski Technical College, Harding University, Philander Smith College, and Arkansas Baptist.
No matter where you are in the Little Rock area, our Furniture Row store is committed to providing you with exceptional customer service and a wide selection of furniture and home decor. We invite you to visit us today and experience a superior shopping experience.