Mattress Store in El Paso, TX 79936
1692.07 miles
Denver Mattress®
11835 Gateway West
El Paso, TX 79936
Mon-Sat 10am-8pm
Sun 12pm-6pm

Call your local store for pickup hours.
Directions
West of Tinsel Town
Directions
West of Tinsel Town
Custom Mattress Fitting
It's easy to find a mattress that's custom-fitted to your unique body type at Denver Mattress®. Our in-store mattress experts use our patented Strength Resistance Test (SRT) to help you discover the mattress and pillow combination that suits your body best, promoting healthy spinal alignment and ensuring a deeper, more comfortable night's sleep. Denver Mattress® is dedicated to providing you with unbeatable value and an unmatched mattress buying experience.
Brands
Your DenverMattress® offers an unmatched selection of quality brands at unbeatable value. Your store is proud to sell product from brands you can trust to give you the most in style, selection, and value.
Services
We take pride in offering a great selection of brand name and factory-direct products at an incredible value, but it is our commitment to providing a superior customer experience that truly sets us apart. At every Denver Mattress®, you'll be greeted by our friendly, no-pressure sales staff who understand that their role is to educate rather than persuade. Our knowledgeable associates are there to guide you through the mattress buying process, offer insights as you test our extensive selection of products, and, of course, they also can also perform our patented Strength Resistance Test so you can discover a mattress that feels like it's custom-made for your unique body type.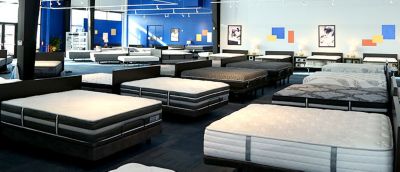 Welcome to Furniture Row in El Paso! Our store is conveniently located at 11835 Gateway West, making it easily accessible for all furniture shoppers in the area.
At Furniture Row El Paso, we take pride in the fact that we offer a wide selection of high-quality furniture at affordable prices. Whether you're looking to furnish your living room, bedroom, dining room, or home office, we have everything you need to create the perfect space. From stylish sofas and sectionals to comfortable mattresses and bedroom sets, our showroom is filled with furniture options that cater to all tastes and preferences.
What sets us apart from other furniture stores is our commitment to exceptional customer service. Our knowledgeable and friendly staff is always ready to assist you in finding the furniture pieces that match your vision and needs. We understand that choosing furniture is a personal and important decision, and we strive to make your shopping experience as enjoyable and stress-free as possible.
In addition to our extensive furniture collection, we also offer a range of home decor and accessories to add those finishing touches to your space. From rugs and lamps to artwork and accent pieces, we have everything you need to complete the look and feel of your home.
Serving Communities in and near El Paso, TX
El Paso is a vibrant and welcoming town known for its rich cultural heritage and warm hospitality. With its stunning mountain views and sunny weather, it's no wonder why El Paso is a favorite destination for residents and visitors alike.
As a local favorite furniture store, Furniture Row proudly serves the surrounding communities of Anthony, Van Horn, Carlsbad, Sunland Park, Socorro, Horizon City, and Fort Bliss. This location is also great for local students and military personnel as we are near the University of Texas, El Paso and Fort Bliss. We believe in building strong relationships with our neighbors, and we are dedicated to providing exceptional service and quality products to all the communities we serve.
So whether you're a long-time resident or new to the area, we invite you to visit Furniture Row in El Paso. Discover the perfect furniture pieces to transform your home and experience the exceptional customer service that has made us one of America's favorite furniture retailers. We look forward to welcoming you to our showroom and helping you create a space you'll love to live in.